Use Finishers To Get A More Time Effective Workout 
Chances are you're spending way too much time in the gym.
But it's not your fault. Most fitness magazines run the same articles and workouts.
So, if your workout is similar to that of the average guy or gal in your gym. You're spending too much time in your workout.
You're never too old to workout but that doesn't mean you have time to burn. You're just wasting valuable time.
If your goal is to lose weight and burn fat. Or it's to improve your overall health. You don't need to put in the time you do.
In fact, about 84% of your time workout is a waste.
Crazy isn't it.
But the research is in. It continues to prove that long slow cardio isn't the best way to transform your body and burn belly fat.
I'm willing to bet you've heard it before. The real question is…
how do you replace the long slow cardio?
Let's see what Mike Whitfield has to say. You'll want to listen too.
The guy has contributed to the Men's Health Big Book of Getting Abs. And he's lost over 105 POUNDS. And he's entered six of his boot camp clients into the turbulence training transformation contest. All of whom have one or at least placed in the voting.
So you know he speaking from experience.
What Mike has found is a plug and play approach to fat loss. His finishers can easily be added to the end of your favorite workout for quick effective fat melting results.
To accelerate fat loss. You can even use these finishers on rest, recovery or off days.
That's so simple to do considering they only take about 10 minutes to complete.
Mike's finishers can double. Sometimes even triple your results.
No need for typical cardio ever again.
Metabolic Stacking
One of the methods Mike likes to use is metabolic stacking. This magic potion as four elements…
density, maximum reps in minimum time
active recovery, Mike never lets you sit still
strategic rest, there's a right time to rest
volume, the precise sets and reps for maximum fat burning
All of these are strategically planned out in each workout for maximum results. A great way to blast through plateaus. Because these calorie-blasting "mini-workout add-ons" deliver a unique fat burning stimulus to your body.
 The 1×1 Circuit, A Killer 5 Minute Finisher
 Watch the video and see Mike as he takes you through the first round of his one rep finisher. But don't let the name or Mike's short demo for you. This is very effective and difficult workout.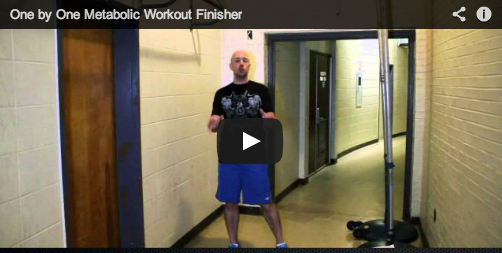 In the One By One Metabolic Workout Finisher Mike utilizes metabolic stacking. This is what makes this five minute workout so effective and challenging.
You may notice. Mike is doing this workout in a junior high hallway. Proof that you really can get an effective high intensity, body transforming, fat burning workout done anywhere, anytime.
How to Do The One By One Metabolic Workout Finisher
 five exercises

 five minutes
 one rep per exercise per round
 as many rounds as you can
Exercises
 Lunge Jump
Squat Thrust
Burpee Pull Up
Lateral Jumps
Spiderman Climb
Watch the video for more details.
Warning: Workout way harder than it looks!
As tough as it is, I'm sure you'll agree it beats the pants off of a 30 minute run on the treadmill or elliptical machine.
Looking for another workout?
Mike has published a series of killer workout programs, Finishers. They're designed to help you burn more more fat in less time. And they do so without beating up your body like sprinting can.
Recently Mike added 51 new workouts to his Finishers series. I picked two of them to share with you.

The first Finisher is one of Mikes long time favorites. He's been doing this with one of his clients for the past 6 years. They see great results and love the workout.
The 3-Alarm Ladder Finisher
1-Arm KB/DB Swings (6/side…1/side)
Spiderman Pushup (6/side…1/side)
Bench Vault or Lateral Jumps (6/side…1/side)
How it's done:
 Start with 6 reps per exercise
complete  1 round, then drop the reps by 1

round 2 is 5 reps, round 3 is 4 reps, continue down until 0

rest when needed, but keep it to a minimum, goal is to get through as quick as posible
One More for you.
The Metabolic Deuce
Low Box Jumps or Jump Squat (2)
Switch Pushup (2/side)
Skater Hops (2/side)
This finisher lasts just 3 minutes. Complete as many rounds as you can in that time. If your form gets sloppy. Then you know it's time for a quick rest.
Another benefit to doing Finishers is the ease on your joints. High intensity sprint intervals are very effective when it comes to burning stubborn belly fat. But they are so stressful on your joints.
With the finishers you eliminate much of that stress on your body. That means you'll feel better. You're not as likely to get beat up and sore.
Add in the time saving. And you have the perfect fat loss punch.
Give these 3 workouts a try and let me know what you think.
If you want free fitness and nutrition tips, click the link below…
Free Fitness & Nutrition Tips